HISTORY AND ORIGIN OF DASAPRAKASH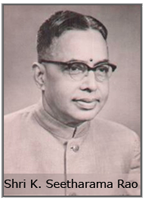 Dasaprasad, Dasaprakash® and Dharmaprakash are three charming and most sacred names of the three institutions founded by the late Shri K. Seetharma Rao. He rest in eternal bliss thrice blessed by the these three ever shining monuments of his glory in his triple role as a Bhakta, a karma Yogi and a Dhanashura
The Story of Shri K. Seetharama Rao is vitally linked with the life and spirit divine of his illustrious father, Bhakta Shri Govinda Dasa. The History of Dasaprakash® is the history of its founder Shir K. Seetharama Rao himself, who has become famous as the Proprietor of the Dasaprakash® Group of Hotels in South India in the world of business,, and as the Bhakta of Bhaktas in the world of spiritualism
"Trust in God and Do the Right" is the motto of his life. This unshaken faith has worked untold wonders in the life of the man who, by his chain of Hotels, has linked the three strategic points of South India: Madras(Chennai)- the gate way to the South; Mysore- Cultural Capital of Karnataka, the Tourist's Paradise; and Ooty- The Queen of Hill Stations.
Starting from humble beginnings Shri Seetharama Rao, independently built-up a number of catering concerns to serve the travelers, tourists and the public at large. These concerns were developed into a wonderful chain of Magnificent Hotels by the creative skill and imagination of Shri Rao who has been aptly described by the many distinguished personages as the Hotel King of South India.      
The hotel  industry in India has a western tradition. Before the British we never thought in terms of Panthasalas or Dharmasalas. Shri Seetharama Rao's biggest contribution to the industry was to make his hotels truly Indian in contemporary Style. An Indian would be satisfied with Indian food if he were given the quality food he expects at home in the same pure and hygienic condition.              
Hat had been Shri Seetharama Rao's watchword in service because.. For him the quality of man's mind depend upon the quality of food he ate. if the food is pure the mind is pure, Shri Seetharama Rao believed that however modern and Indian may be, his background is deeply rooted in religion, and that was why Shri Seetharama Rao provided recreation for the mind through cultural activities like music, drama, Indian Classical dance, religious films and also patronized seminars on religious and cultural subjects, However, everything right from the beginning to the end was Indian. Shri Seetharama Rao's social mission in life was to project India through food and her way of living
Dasaprakash® which means "Light of the servant of god" was founded in the early 1920's by this great visionary in honor of his father who was indeed a true servant of god. A line of business long held to be only a means of making money. became in the hands of Shri Seetharma Rao an instrument of service and an agency for the spread of Indian Dharma and culture. Dasaprakash, with has outposts in Delhi and the U.S. has been a aptly described as a home away from home by one of its distinguished visitors.
Dasaprakash® opened its first restaurant in Los Angeles in 1989 in the city of Cerritos and opened another branch in West Los Angeles in 1996. The Santa Clara Dasaprakash restaurant opened in the early 2000's
The Dasaprakash® family of restaurants specializes in South Indian food